Regular price
Sale price
$69.99
Unit price
per
Sale
Sold out
Shipping & Returns

Free shipping is 2-5 business days and applies to US orders only. Shipping hours are Mon-Fri 7am-4pm PST. We do not ship on weekends.

For any reason you can return within 30 days from the date of delivery, and we cover shipping.
3-Year Warranty

Discover Headsets warrants you with a 3-year warranty for protection from physical or electronic defects. Visit our warranty page for more information.
Support

For help with set-up, adjustments, or troubleshooting, visit our self-service help center.

If you prefer to talk with a fellow human, contact us today.
FAQ

Q: Can the volume of sidetone be adjusted?

A: At this current time it can't. It's set at 10dB and you can turn sidetone off by pressing and holding the mute button for 5 seconds.

Q: How long is the cord?

A: 8 feet

Q: Can the microphone be worn on either side?

A: Yes, you can fully rotate the microphone to be worn on the left or right side.

Q: Will this work on my computer for calls and meetings?

A: Yes, both USB-A and USB-C connections come included to work on your computer, laptop or Mac. The D722U works with all leading UC software, like Teams, Zoom, Google, RingCentral, Webex and many others.

Q: Do you have to download software in order to use the headset?

A: No, the D722U is plug and play.
View full details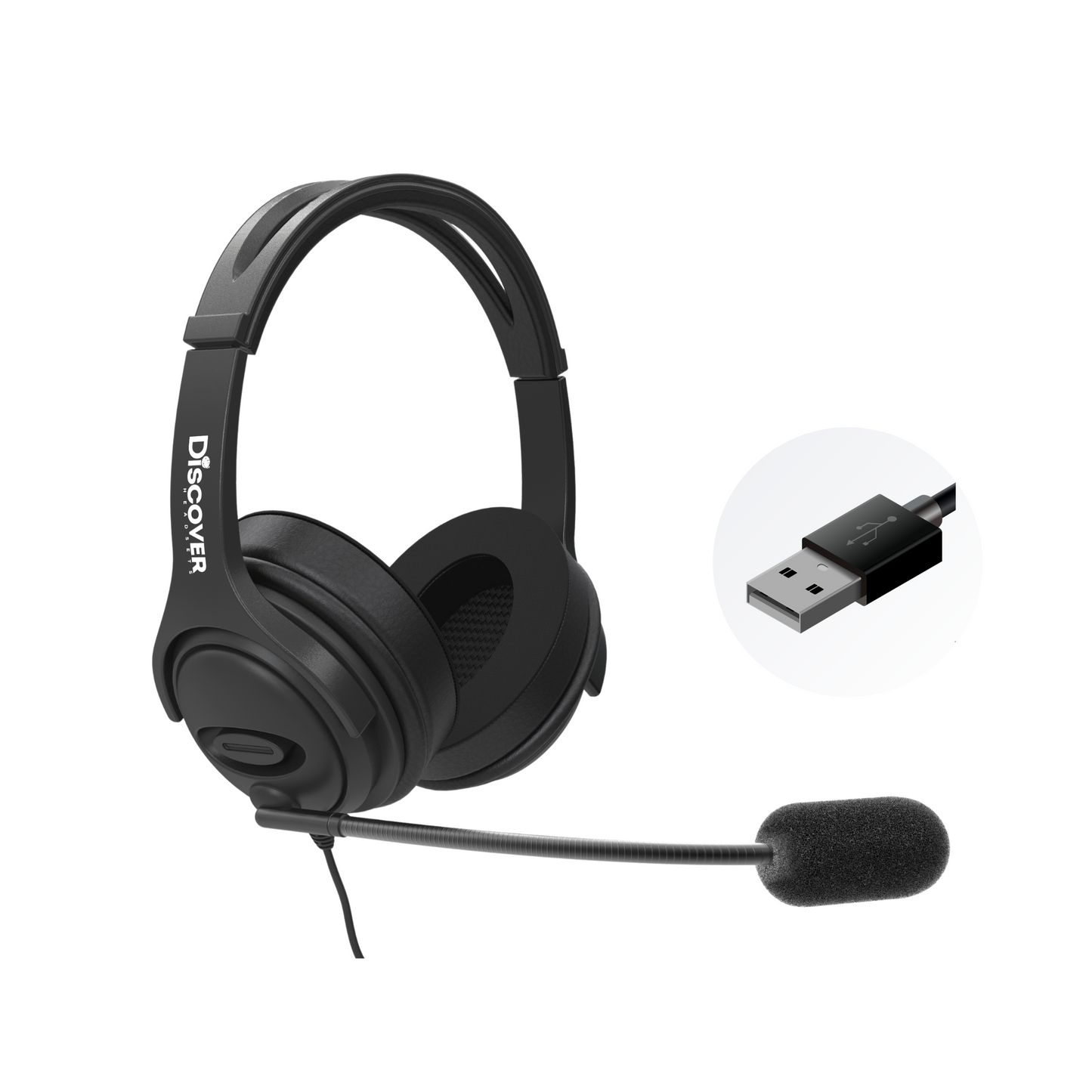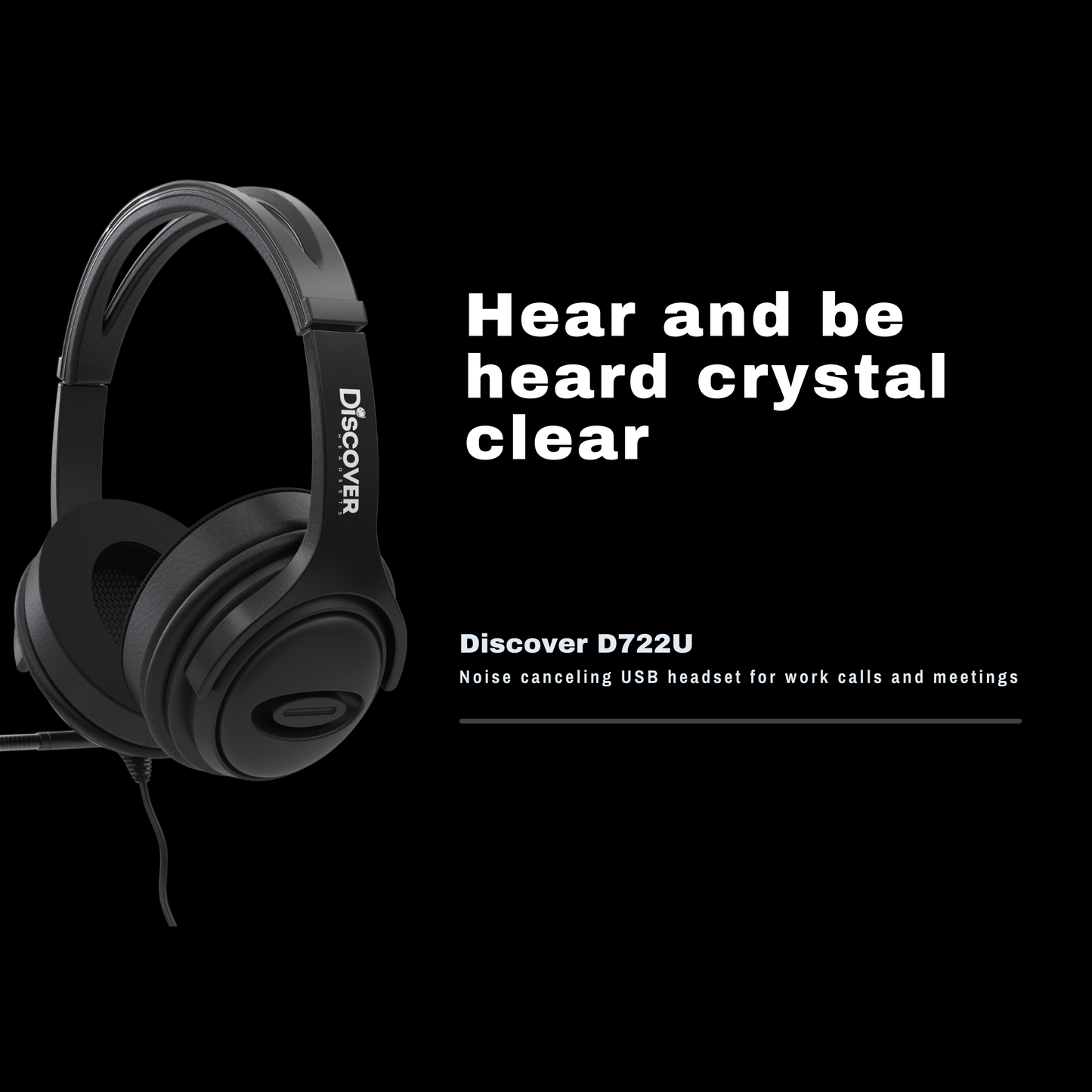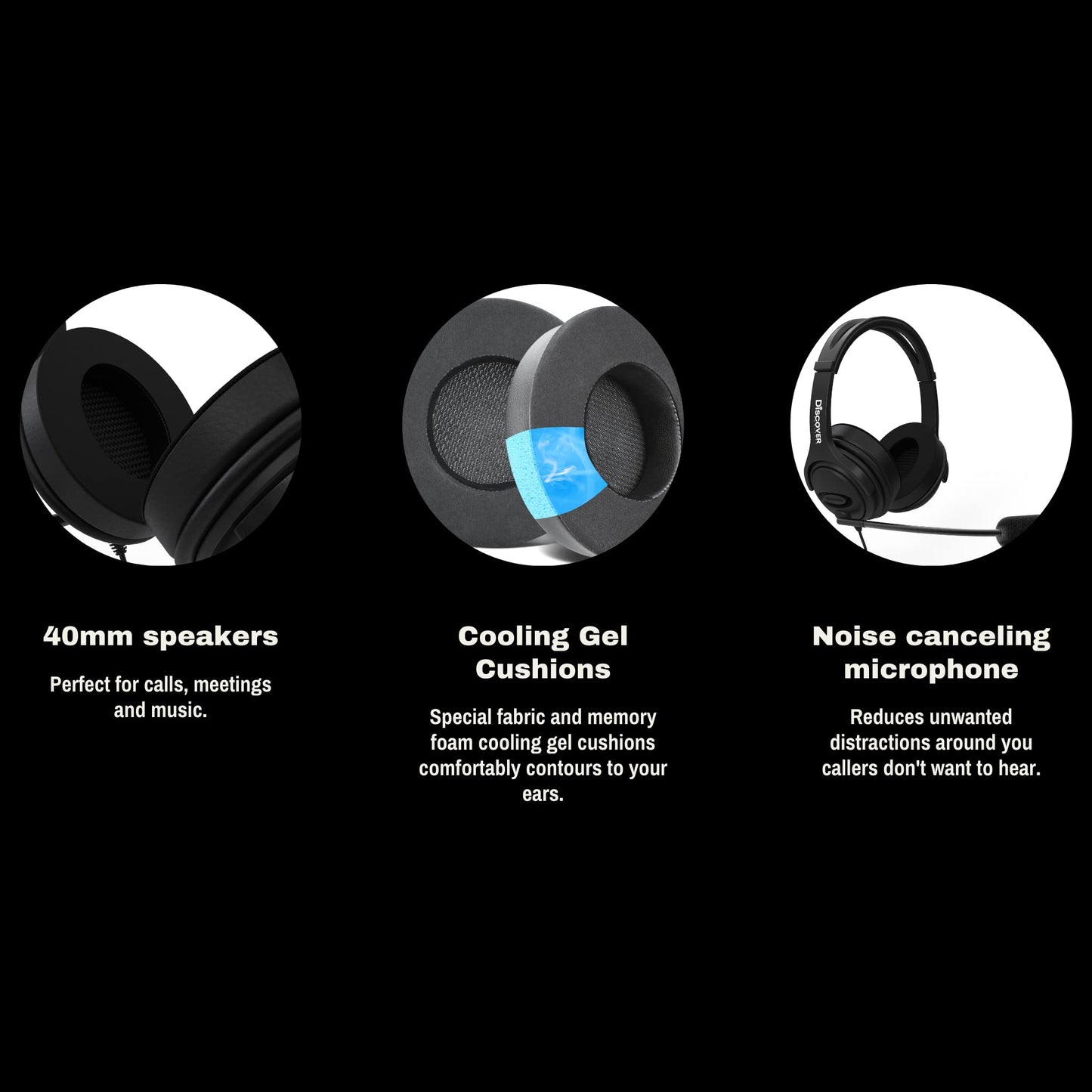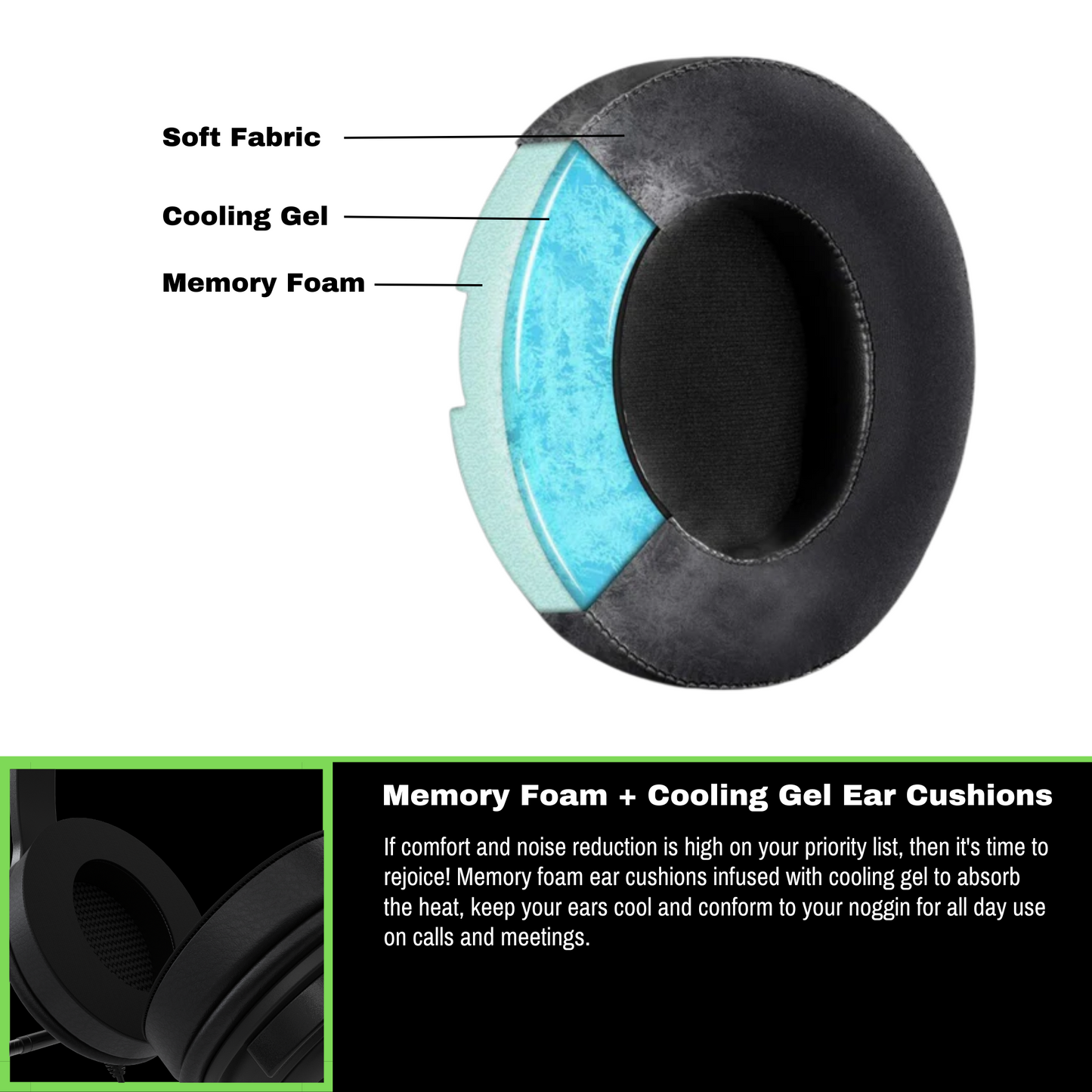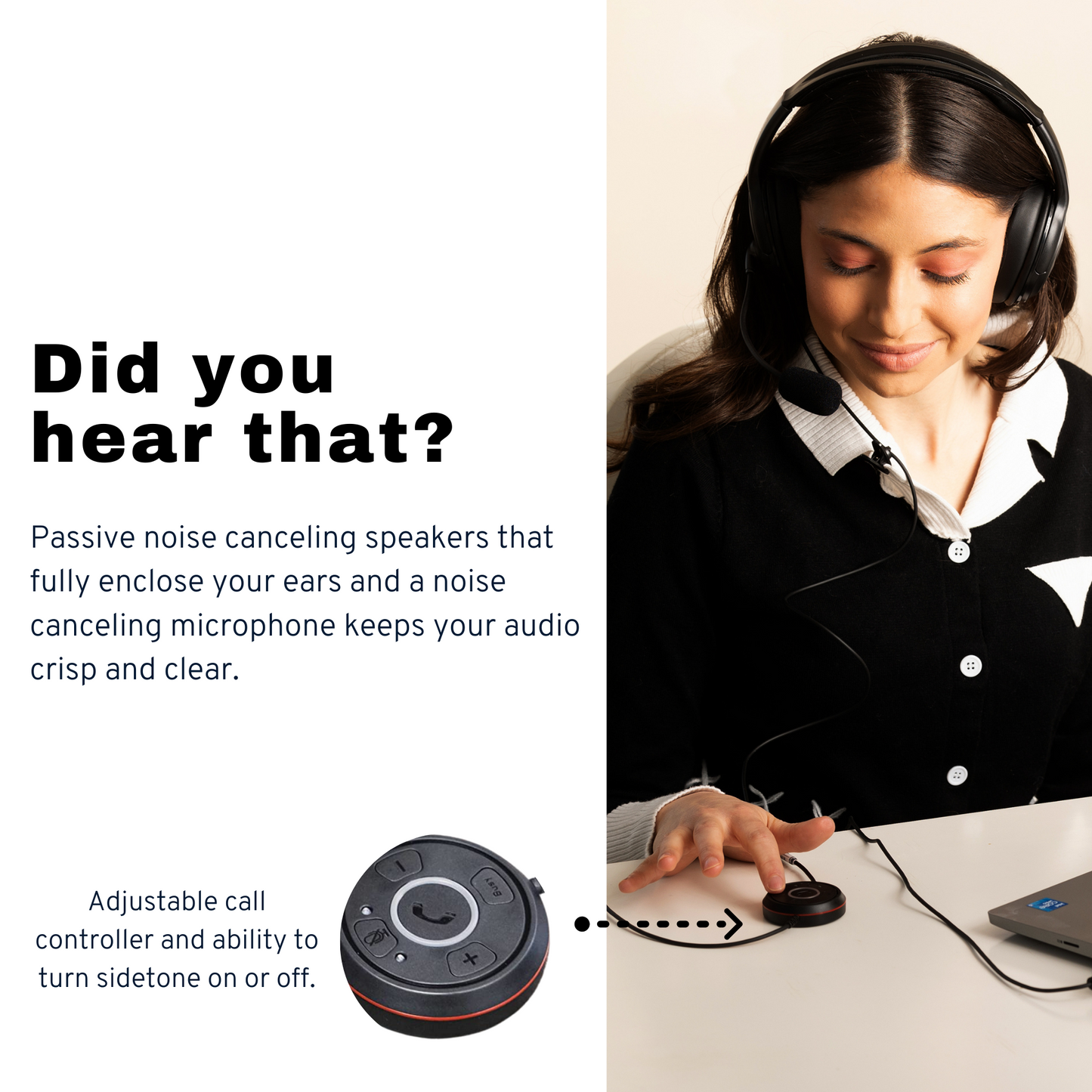 Collapsible content
Highlights

Gooseneck flexible noise-canceling microphone for clear calls.
Replaceable over-ear memory foam ear cushions infused with cooling gel for extreme comfort and noise reduction.
Included USB-A and USB-C connectivity for easy setup no matter which USB port your computer has.
Call controller for easy to press mute/unmute, volume up/down, and a built in speaker you can turn on or off.
Ability to turn sidetone on/off without downloading software.
Compatible with leading UC applications like Teams, Zoom, Google Meet, RingCentral and many more.
3 year warranty
Details

Are you looking for a wired headset that packs a punch without breaking the bank? Look no further than the Discover D722U! This headset is built for communication and comes packed with all the features you need for crystal clear audio, and comfort.

The flexible gooseneck microphone ensures perfect mic placement and background noise is a thing of the past. And let's not forget about the memory foam ear cushions infused with cooling gel. You'll be comfortable as a bear in a honey pot, even on the hottest summer days.

Also, the D722U also comes with a built-in sidetone feature, so you can adjust the audio to your liking. And the best part? No software required! This headset is compatible with all major UC platforms like Zoom, Teams, RingCentral and many more. All of this for under $100?! You better believe it!
Tech Specs

Uni-directional noise canceling microphone
40mm speakers and HIFI audio
Wideband speakers (50Hz-10Khz)
Hearing protection from loud volume spikes
Gooseneck noise-canceling mic
You know how distracting it is when you're on a call and you can hear everything going on in the background of your caller.
The D722U noise-canceling microphone reduces unwanted background noises, and is very flexible for the perfect mic position.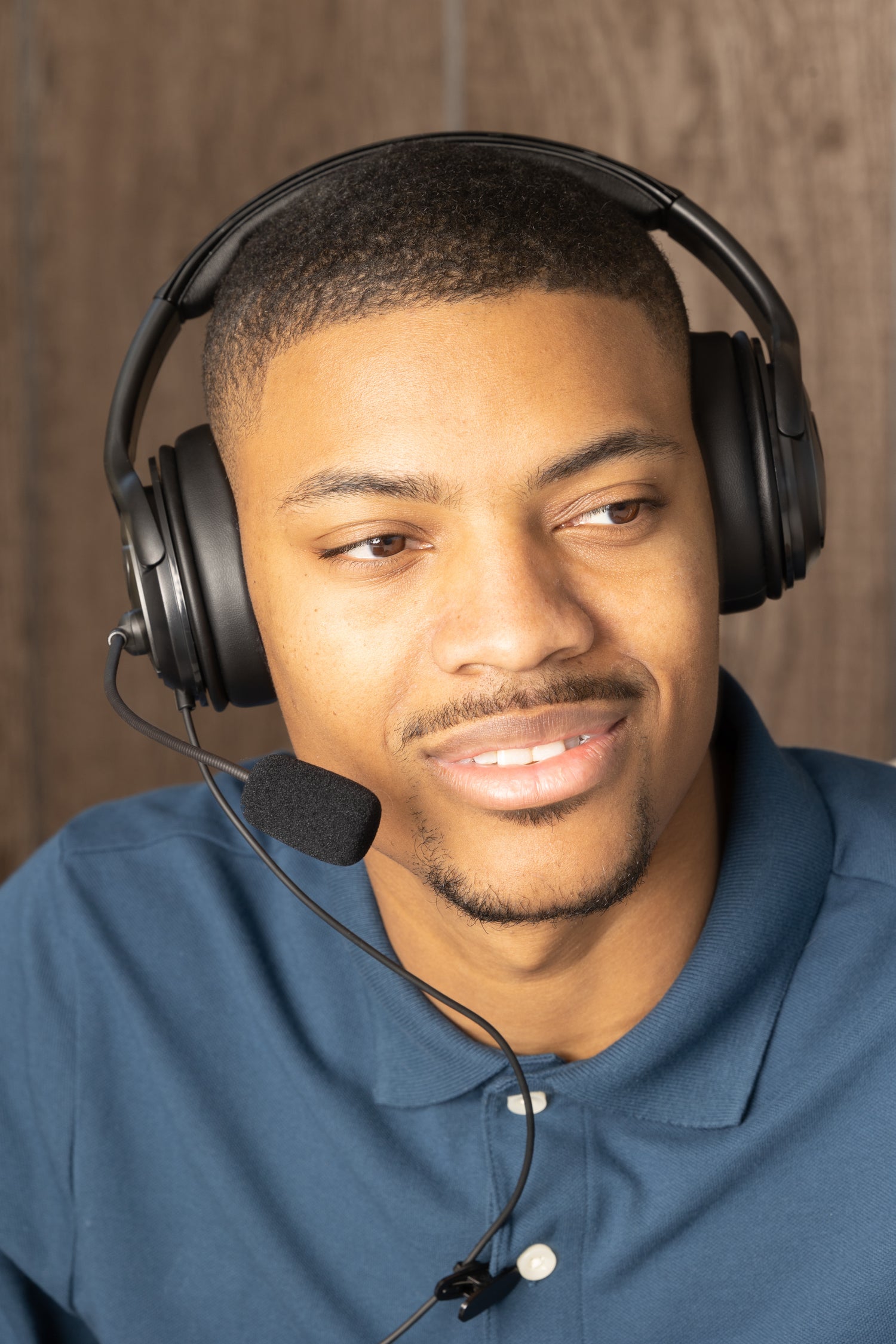 Memory foam + Cooling gel
If comfort and noise reduction is high on your priority list, then it's time to rejoice! Memory foam ear cushions infused with cooling gel to absorb the heat, keep your ears cool and conform to your noggin for all day use on calls and meetings.
10dB sidetone
Wearing dual speakers as you talk feels unnatural and can cause your voice to elevate. Sidetone allows you to slightly hear your own voice when talking to better gauge your speaking volume.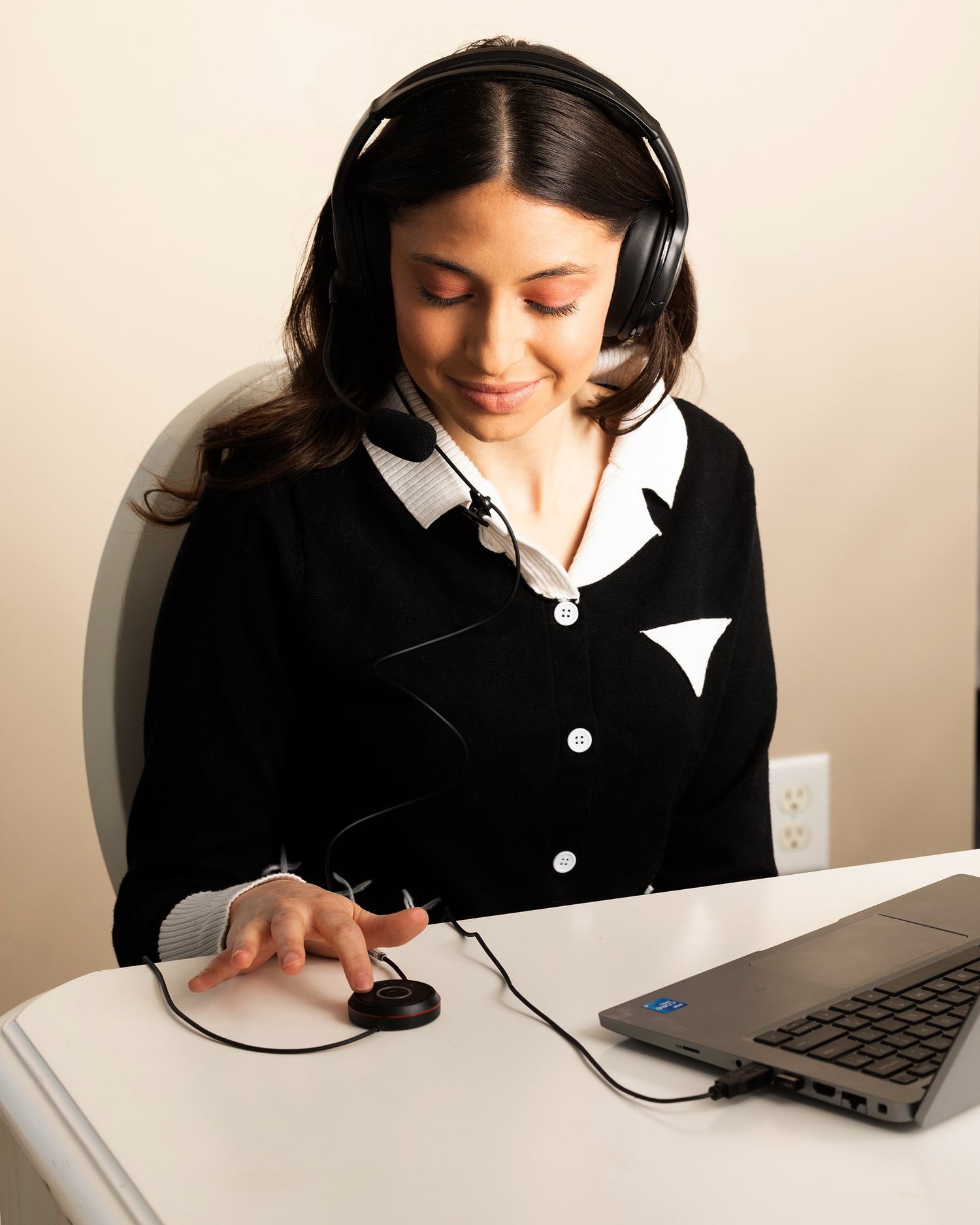 Built-in speaker
The call controller features a built-in speaker that can be toggled on or off. If you don't have computer speakers, this speaker provides you with a way to listen to audio and hear incoming calls, even when you're away from your desk.
#Boomstick Nation
I've been cold calling for almost 2 decades and I'm a millennial so you know that means I try the latest and greatest technology as it comes to market . When it comes to headsets I've tried them all from the $500 down to the balling on a budget $30 headsets
And the #Boomstick is by far the greatest value headset for the dollar. It's clear, crisp and it always just works!
GAMECHANGER for anyone making calls or live streaming!!!
This headset brought my cold calls in my sales role to a new level of clarity and has made a drastic difference while live streaming.
Being able to hear myself clearly and know that mic issues will not be a problem gives me peace of mind while reaching out to prospects and I've gotten several compliments from teammates on how clear the audio is coming across.
The headset is comfortable enough to wear for an entire day - tested this out by wearing it for 8 hours straight for a LinkedIn event and was completely fine. Usually over ear headsets hurt my head after a short period of time because of my earrings.
Love being able to adjust the volume with the wired in controller rather than messing around with the levels on my computer and the option to turn the mic off/on with a button (and having peace of mind that I'm not accidentally broadcasting secrets because of the indicator light!)
Highly recommend this headset as a great and cost effective way to sound more professional and get your head into work mode!