Regular price
Sale price
$99.99
Unit price
per
Sale
Sold out
Shipping & Returns

Free shipping is 2-5 business days and applies to US orders only. Shipping hours are Mon-Fri 7am-4pm PST. We do not ship on weekends.

For any reason you can return within 30 days from the date of delivery, and we cover shipping.
3-Year Warranty

Discover Headsets warrants you with a 3-year warranty for protection from physical or electronic defects. Visit our warranty page for more information.
Support

For help with set-up, adjustments, or troubleshooting, visit our self-service help center.

If you prefer to talk with a fellow human, contact us today.
FAQ

Q: Is the Dongle DECT or Bluetooth, and if the laptop is locked to use bluetooth will it still connect?

A: The USB Dongle is Bluetooth 5.1 and comes pre-paired to the headset. You should have no issues connecting to a work computer that's locked to use Bluetooth.

Q: Can I use my phone and computer at the same time?

A: The Boomstick Wireless can be paired/connected to your mobile device and computer at the same time, but you can have only one active connection at a time.

Q: Is this compatible with softphones like MS Teams, Zoom, Dialpad, RingCentral and others, and does it require software to work?

A: Yes, the Boomstick wireless works with most leading call and meeting software on your computer. It's also plug and play so there's no software downloads required.

Q: Can it block out noises around me like a baby, noise at a coffee shop or at an office?

A: It won't completely block sounds, but significantly reduces them so you're still aware of your surroundings, and callers on the other end be able to more clearly focus on your voice, no the distractions.
View full details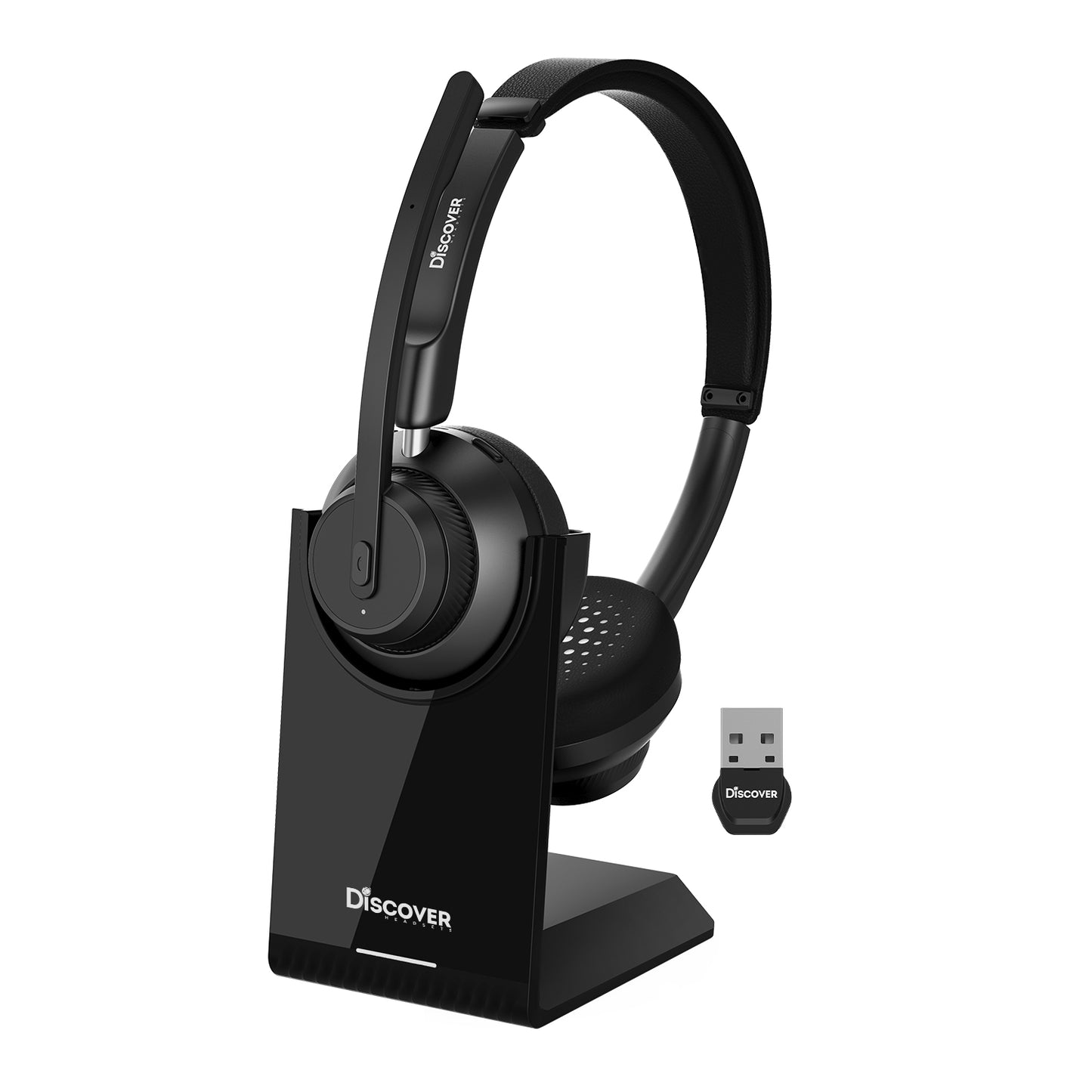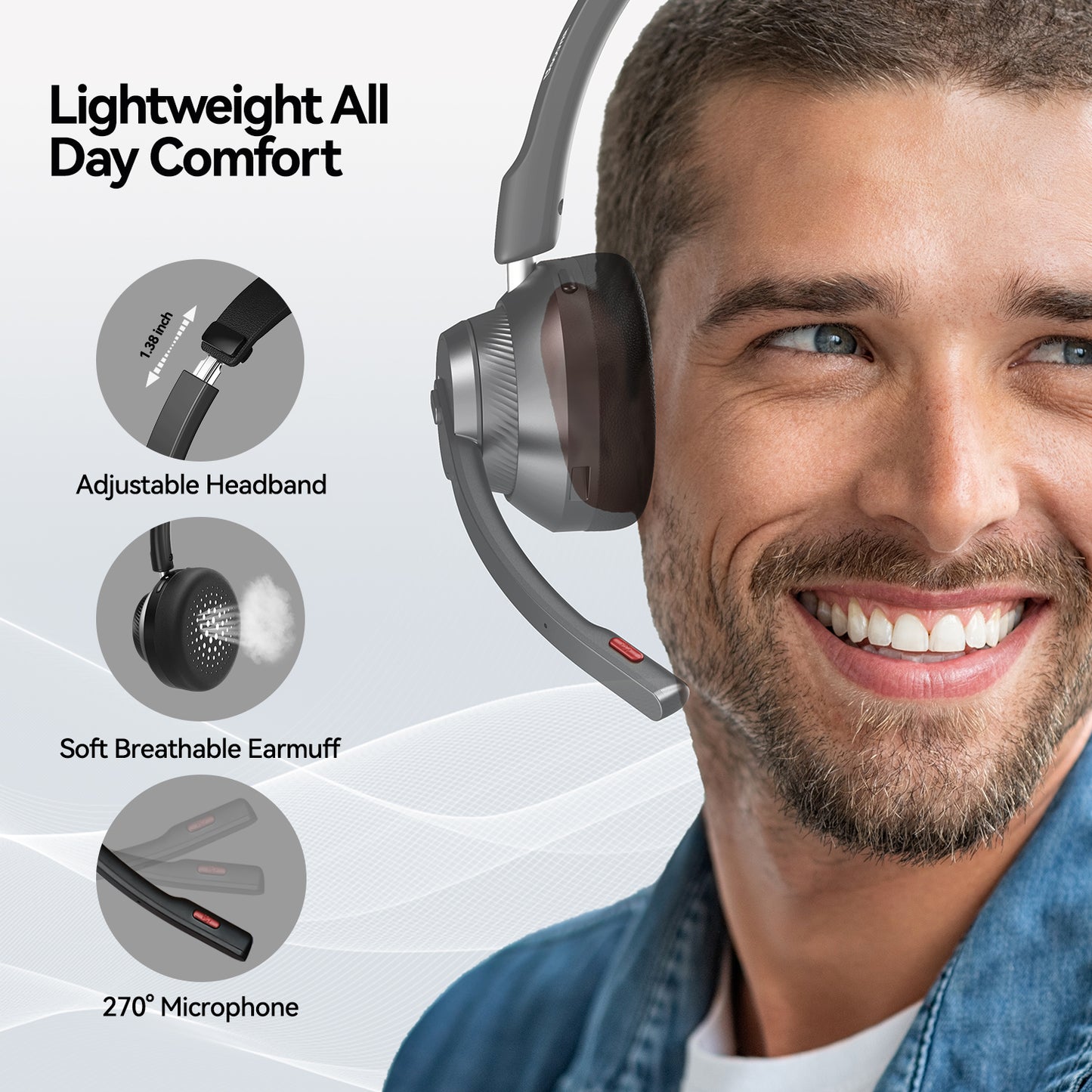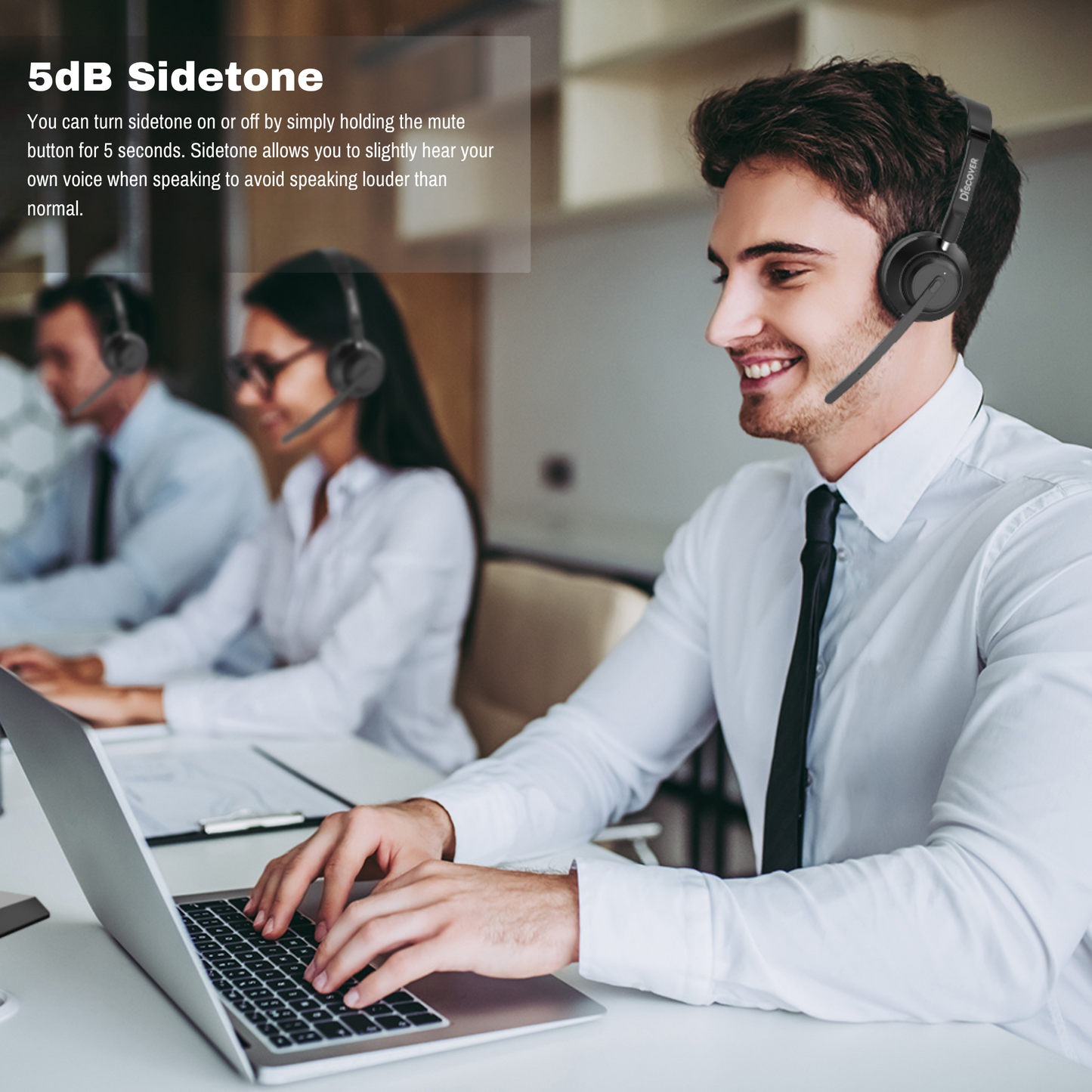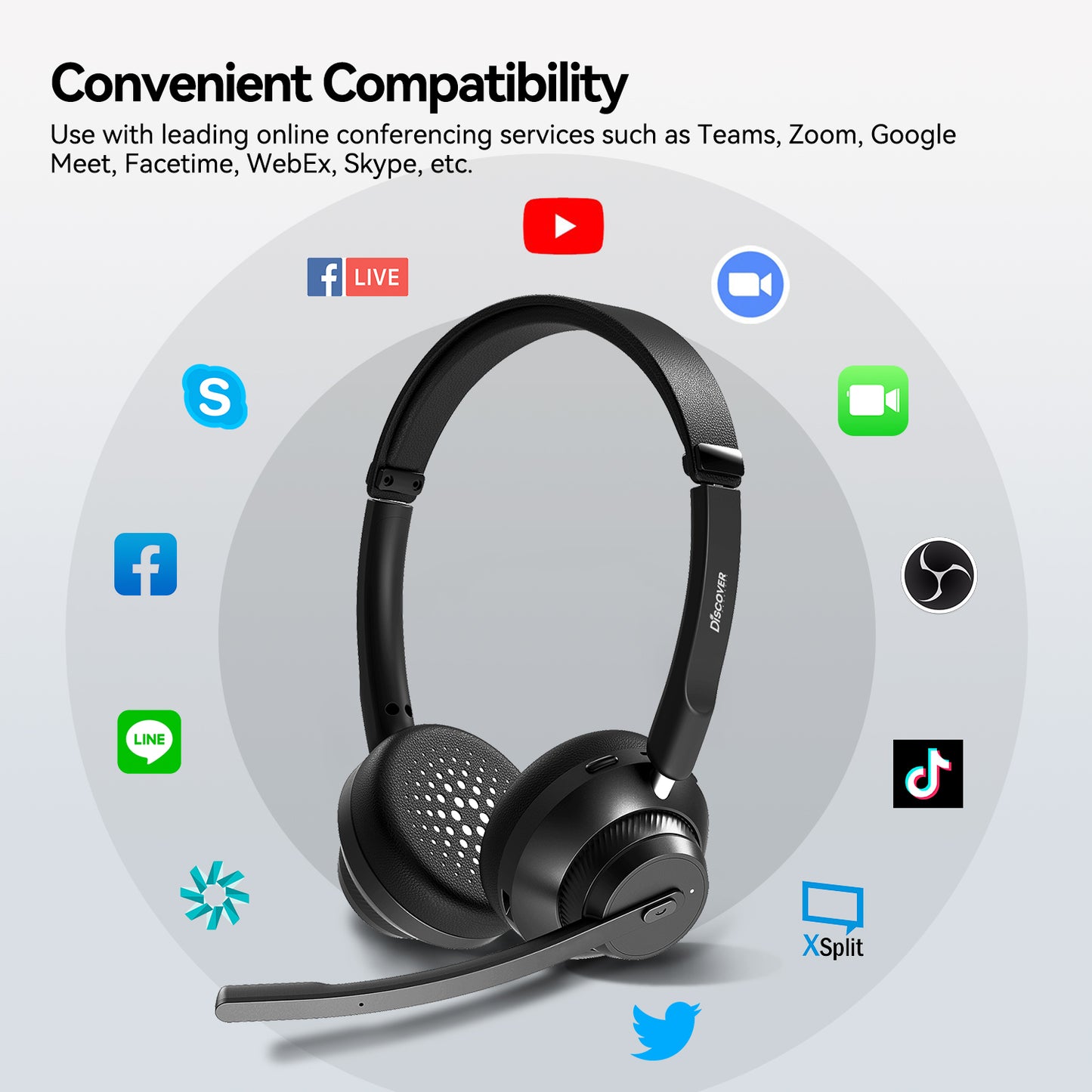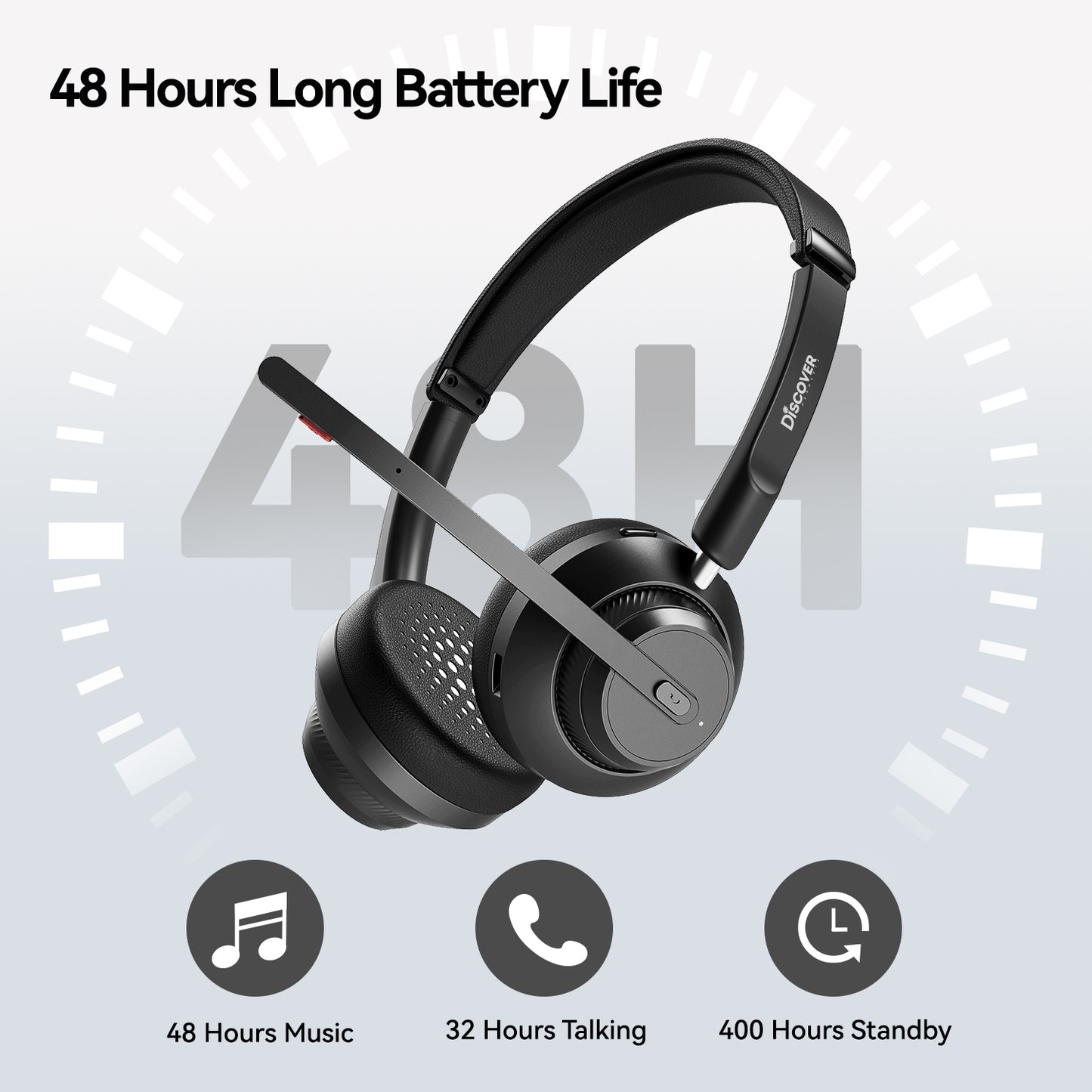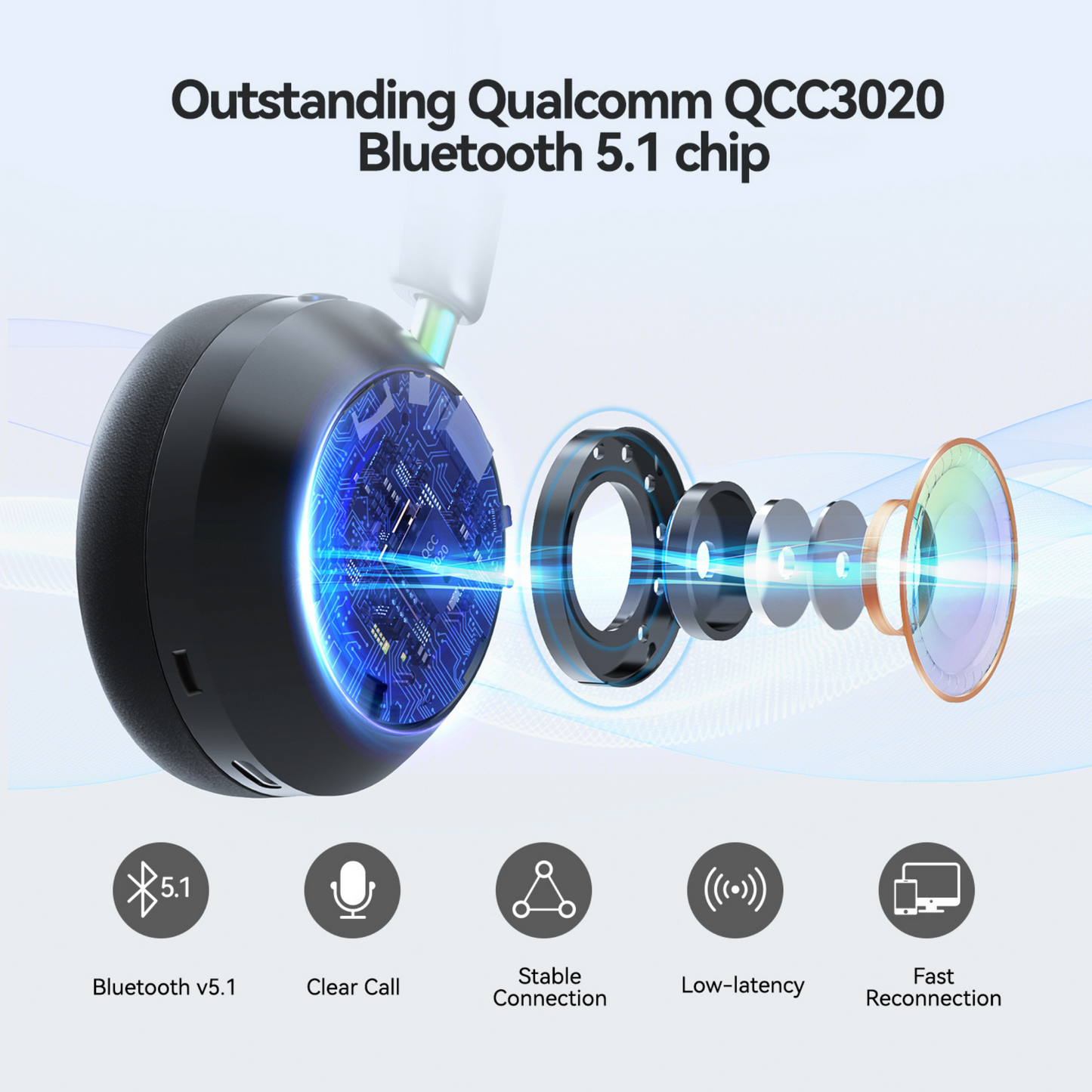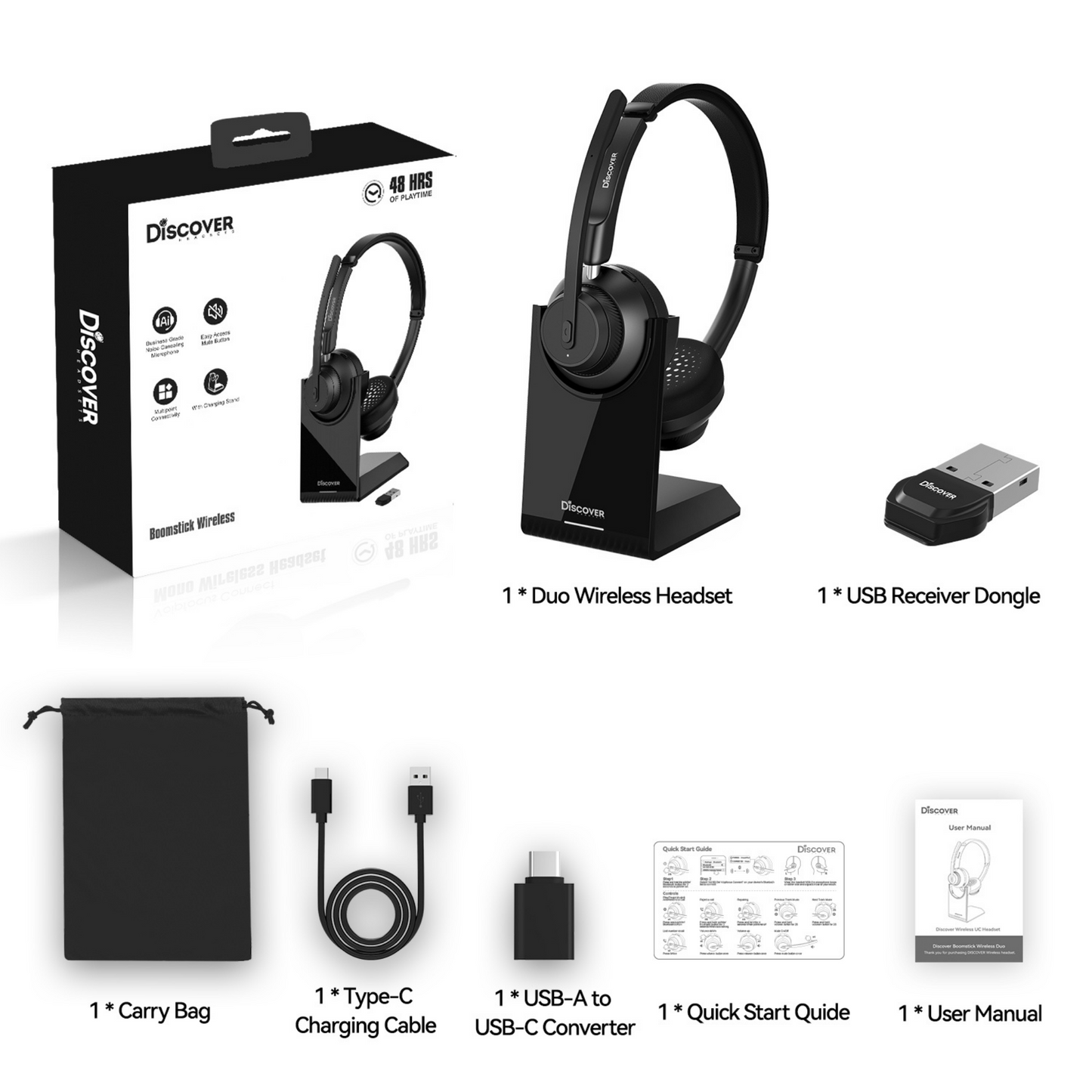 Collapsible content
Highlights

Business grade noise canceling microphone to reduce unwanted background noise and be heard more clearly.
Muting is extremely easy by a physical press of a button. Plus it's red so you can't miss it!
Bluetooth 5.1 with multipoint connectivity for easy switching between your mobile phone and computer.
Up to 80 feet of wireless freedom to walk and talk without a cord to get in the way.
Included USB Dongle gives more reliable connectivity to your computer.
Lighter than most headsets, weighing only 2.6oz (75.6g) with leatherette wrapped memory foam ear cushions.
Rated up to 50hrs of battery on a single charge for listening, and 32 hours for calls.
Included charging base at no additional cost for added convenience.
3 year warranty
Details

Introducing the Discover Boomstick Wireless. This workhorse gives you crystal clear communications and wireless freedom that'll have you walkin' and talkin' up to 60ft away from your mobile phone or computer.

We're talking business-grade noise canceling microphone, so your callers will never miss a word, no matter if you're in a busy office or working from home. And, with the included Boomstick wireless USB Dongle, you'll get a more reliable and stable connection to your computer with longer range!

But that's not all. We've also included a flip-up to mute feature so you can easily silence yourself when needed. And when you're ready to talk, just bring the microphone back down and you're unmuted.

Now, I know some of you may be thinkin', "But other headsets require me to pay extra for the charge stand." But not the Boomstick Wireless, my friends. We've included the charging base at no additional cost, so you can reduce clutter on your desk, ensure your headset is fully charged when needed, and added convenience of being able to grab your headset without having to search for the charging cable."
Tech Specs

Battery: 32 hours of talk time, and 50 hours of listening.
Charge time: About 1.5 hours, supports fast charging
30mm speakers
Up to 80 feet of wireless range
Omnidirectional noise-cancelling microphone
Bluetooth 5.1
Audio codec: SBC, AAC
Supported Protocols: HSP1.2, HFP1.6, A2DP1.2, AVRCP1.4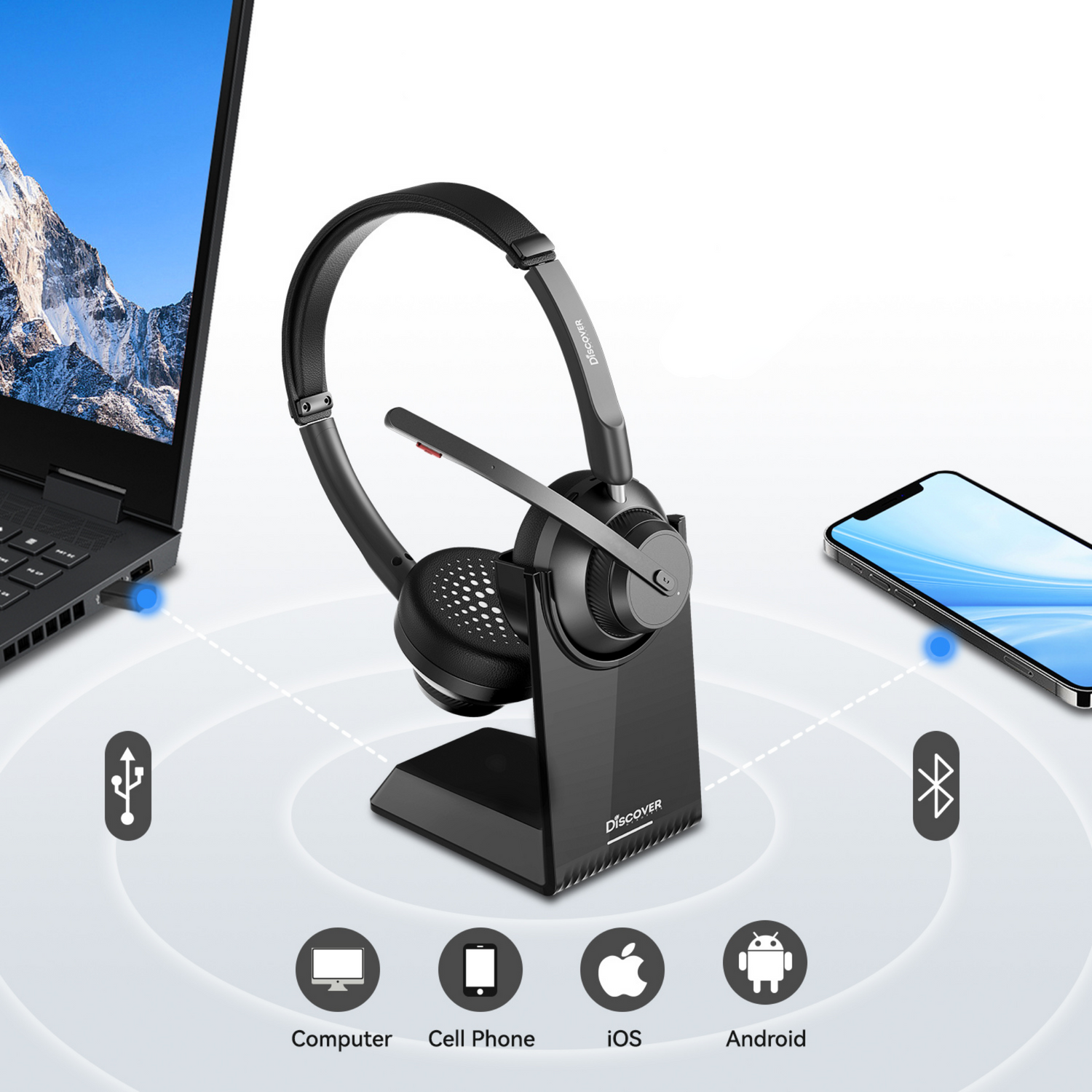 Compatibility
Easy connectivity to leading UC apps (Teams, Zoom, Google, WebEx, RingCentral etc..) without the need to download extra software, thanks to plug-and-play functionality. Also, the included USB Dongle is pre-paired, eliminating the need for manual pairing to your computer.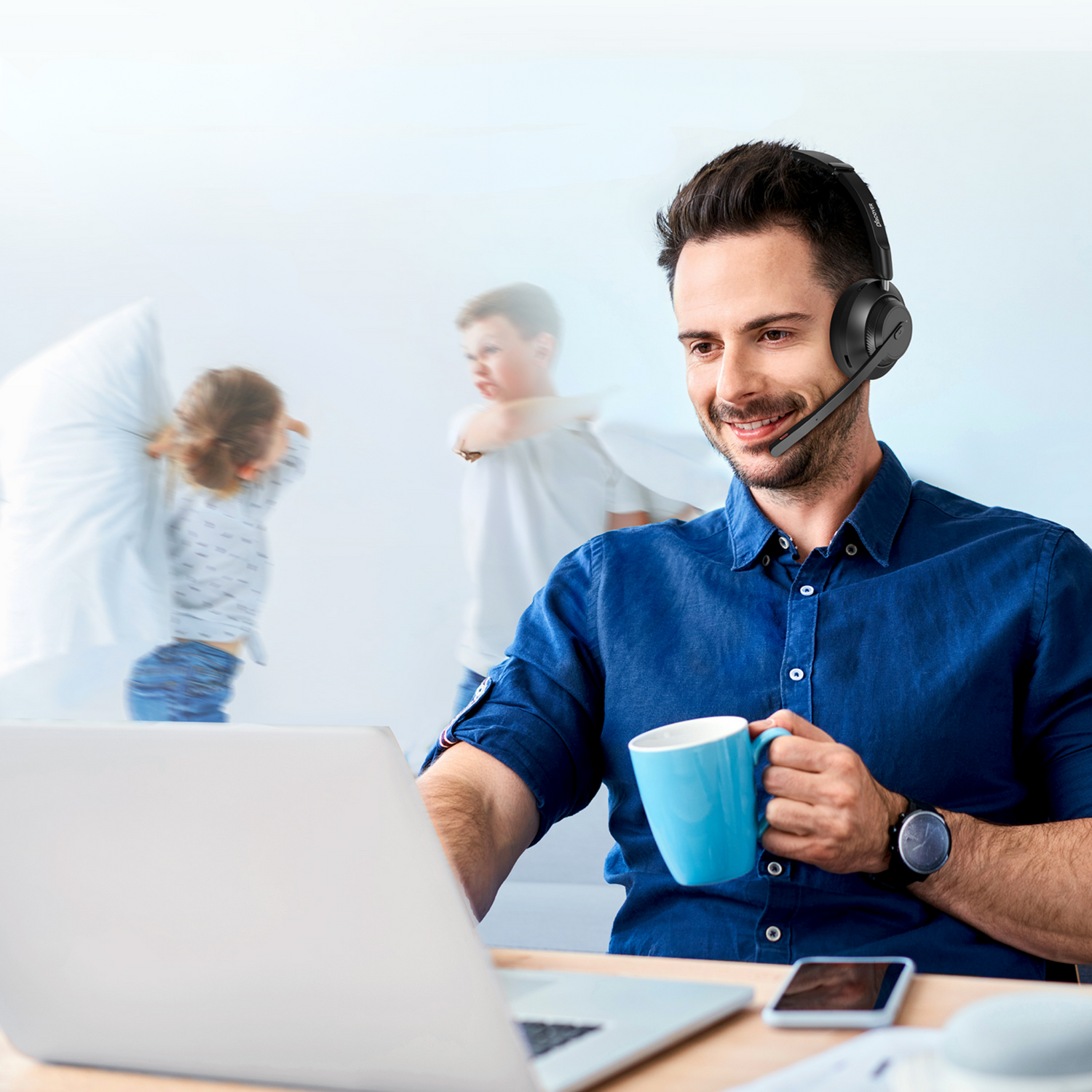 Crystal clear calls
We all know, whether you're at home or in the office, there's always some pesky noises you don't want callers to hear. But don't you worry because the Boomstick wireless has a business grade noise-canceling microphone. It will keep your communications crystal clear, so you can sound as professional as a sports broadcaster in a loud sports arena.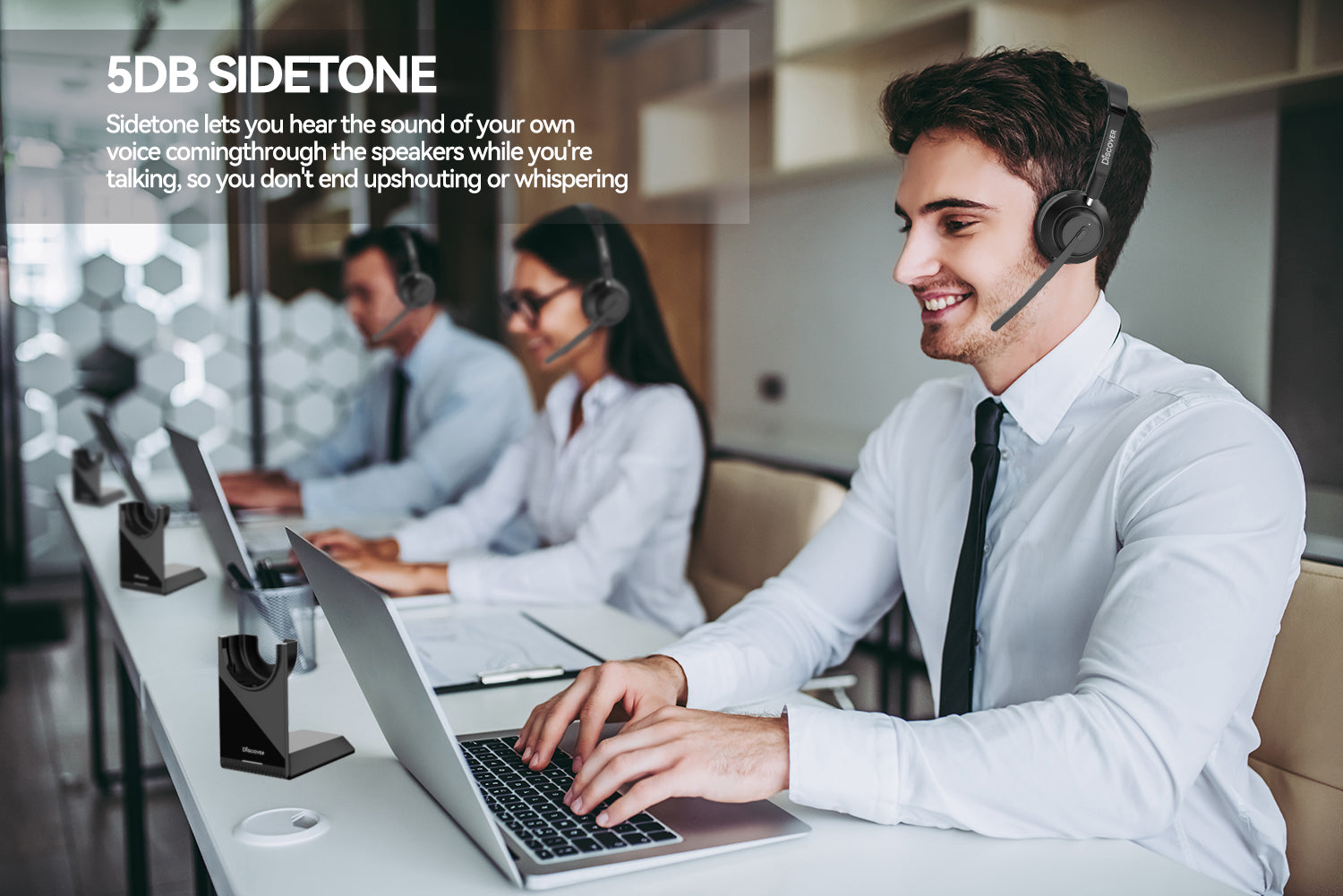 5dB sidetone
Sidetone lets you hear the sound of your own voice coming through the speakers while you're talking. With dual speakers, the experience feel much more natural, as if both your ears weren't covered. Best of all, it allows you to judge the volume of your speech, so you don't end up shouting or whispering.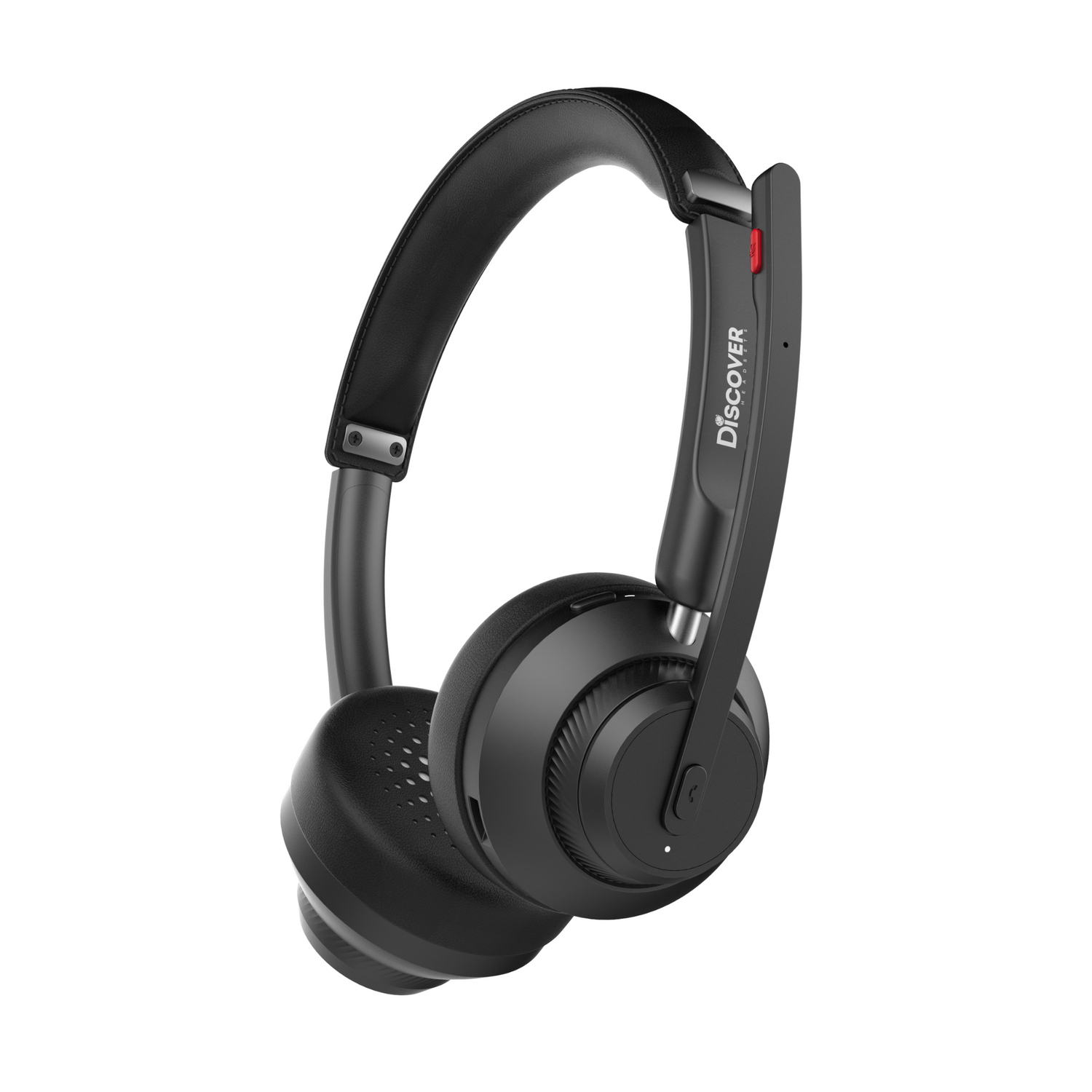 Easy Mute
You can kiss those days of searching for a mute button goodbye! Right at the end of your mic boom sits a clear as day red button that'll allow you to mute and unmute your microphone in a jiffy. And, as an added bonus, you'll get an audio indicator in your ear, so you'll have peace of mind knowing your mute status.
Works great!
I received this headset for review. Calls are clear, and it's quite comfortable!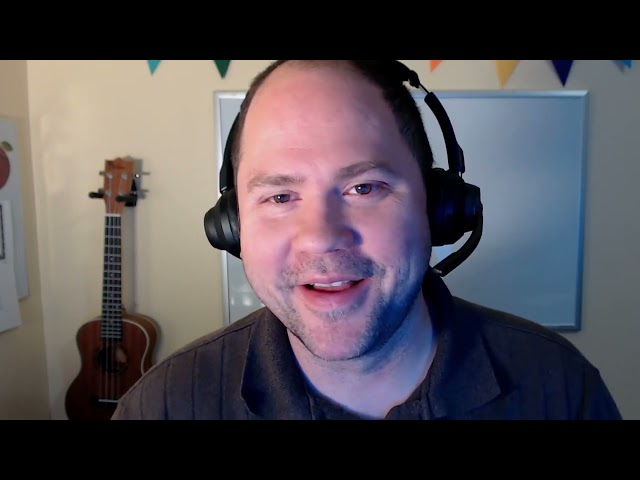 #BoomStick Nation
When it comes to headsets, I have tried most over the my 17 years of inside sales experience. I used to be a huge Jabra fan, rocking a Jabra 75 for years. But when Headset Advisor came out with the wireless #BoomStick, I had to give it a spin.
This headset is unmatched for the overall value (Quality for the price).
If you are looking for a solid wireless headset that is going to get the job done. Look no further than the #BoomStick Wireless