Regular price
Sale price
$249.99
Unit price
per
Sale
Sold out
Shipping & Returns

Free shipping is 2-5 business days and applies to US orders only. Shipping hours are Mon-Fri 7am-4pm PST. We do not ship on weekends.

For any reason you can return within 30 days from the date of delivery, and we cover shipping.
3-Year Warranty

Discover Headsets warrants you with a 3-year warranty for protection from physical or electronic defects. Visit our warranty page for more information.
FAQ

Q: How do I know if it works with my phone?

A: As long as you have a corded desk phone, the Adapt 30 will work. If you want to verify compatibility, contact us today.

Q: Can I answer calls away from the desk?

A: Out of the box, no. A remote answering accessory (sold separately) is required to enable this feature when connecting to a desk phone.

Q: Will this work with Zoom?

A: Yes, the Adapt 30 is plug and play to your computer. It will work with all leading UC computer software.

Q: How does it connect to my phone?

A: As long as you have a corded desk phone (not cordless) you will connect the included RJ9 phone cord into the headphone or handset port of your desk phone.

Q: Does it include both a mono and dual speaker headband?

A: Yes, to switch between wearing styles you simply snap off the mic boom and attach whichever wearing style you prefer.
View full details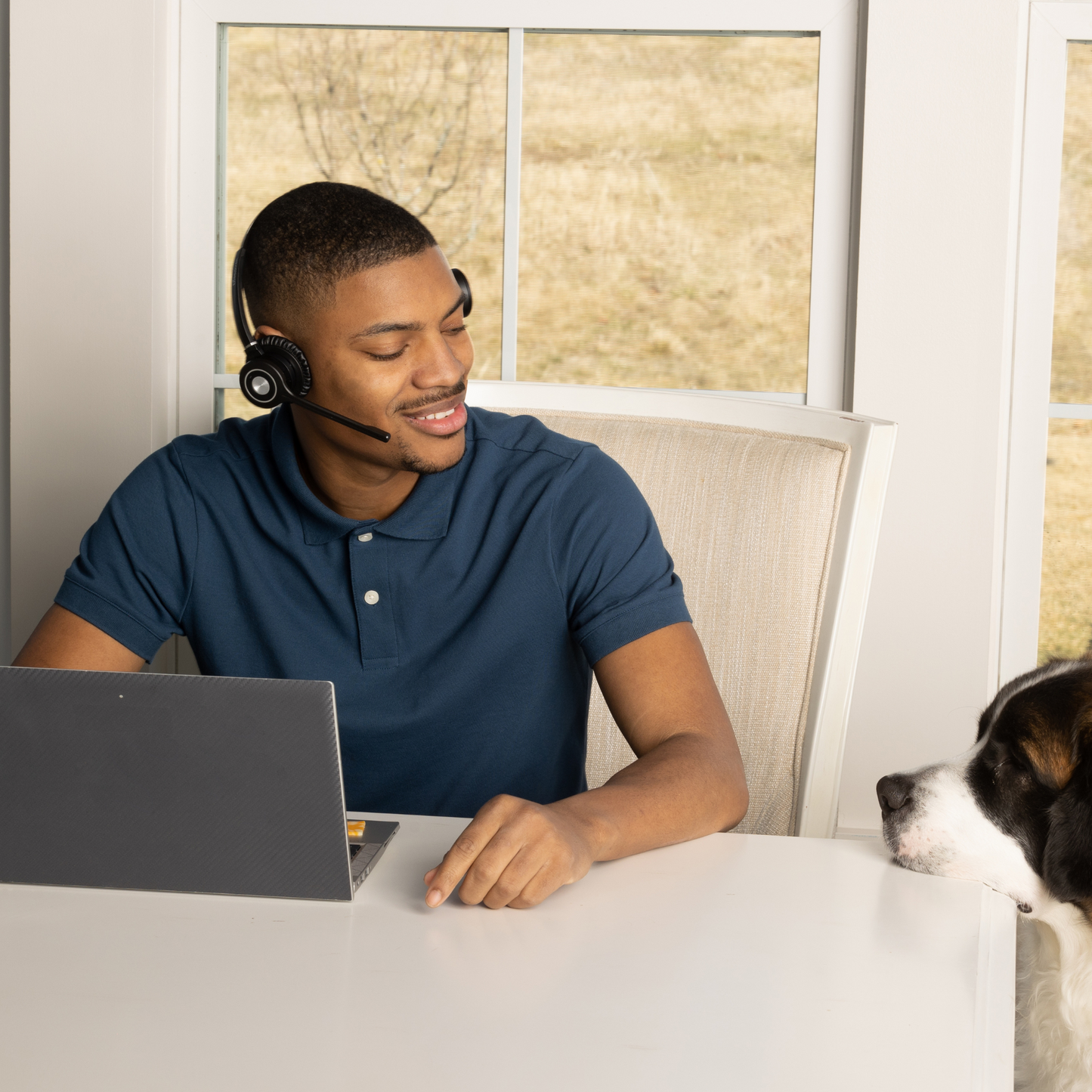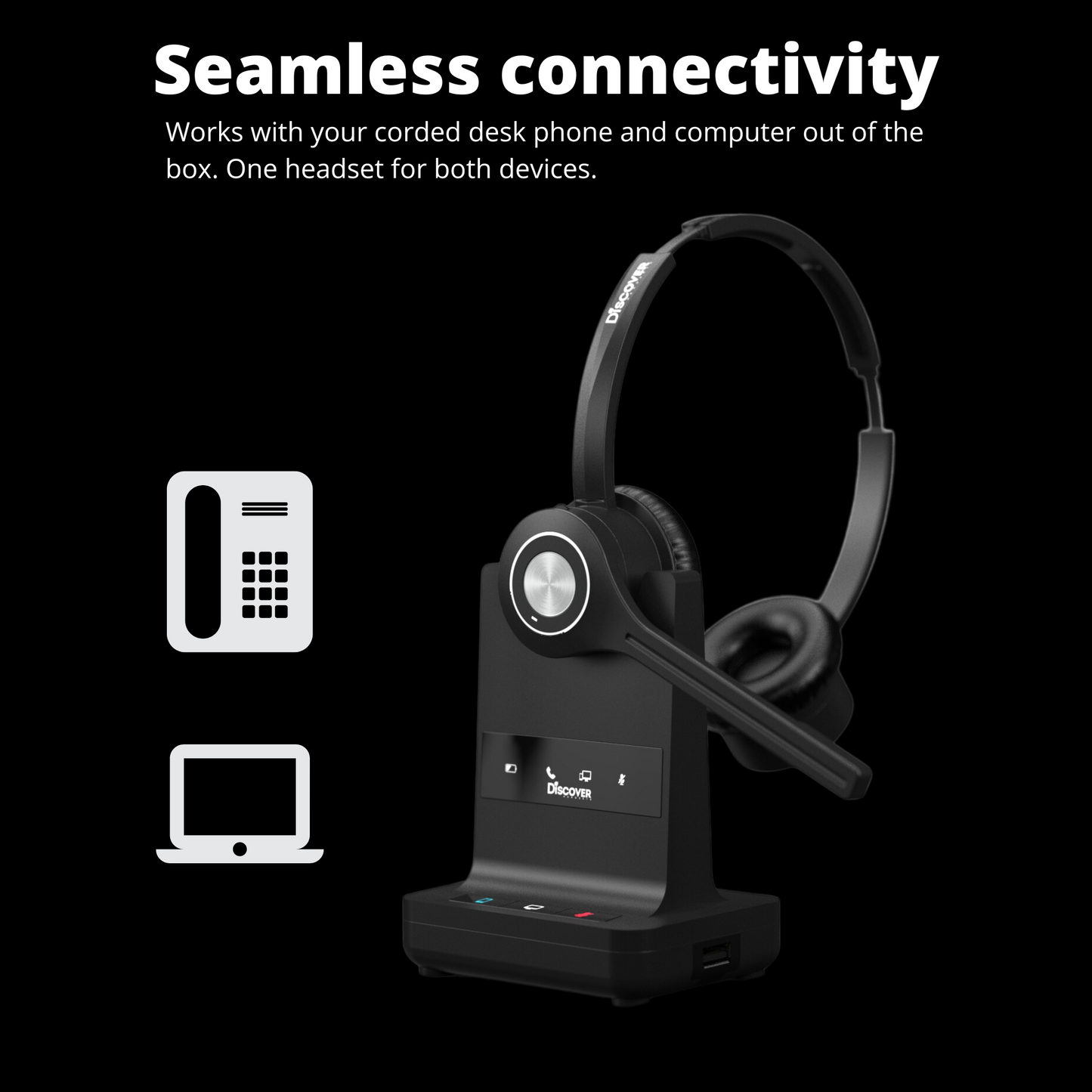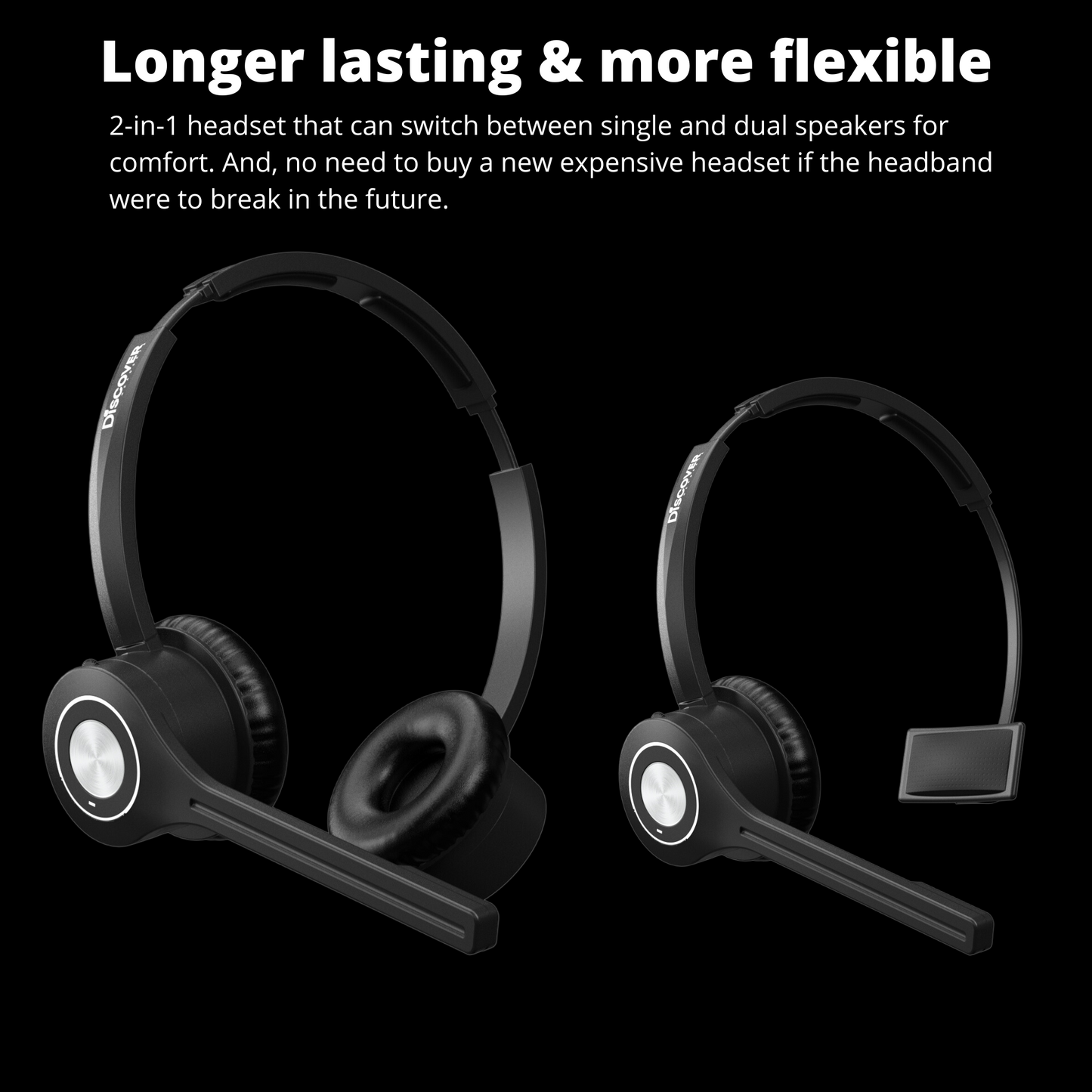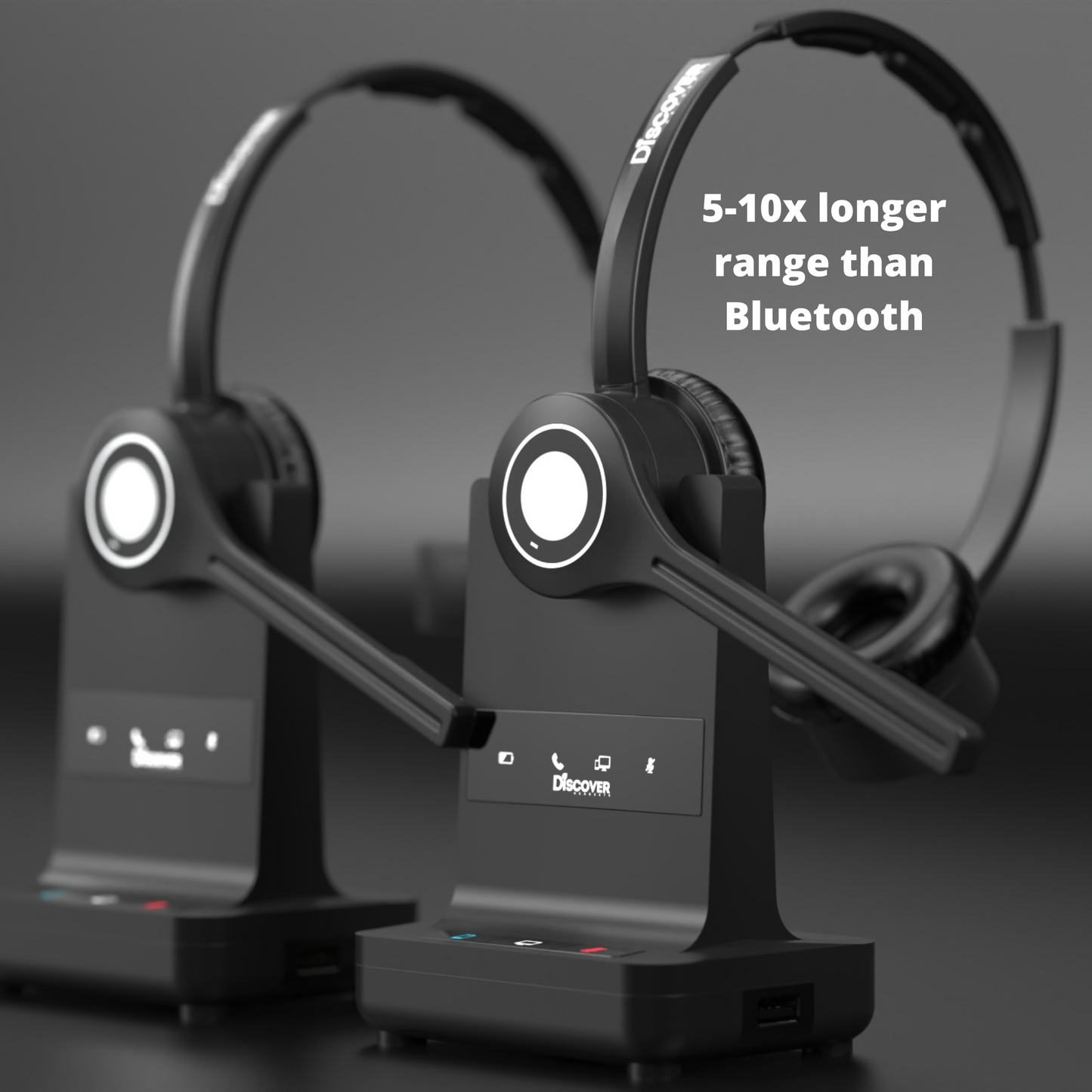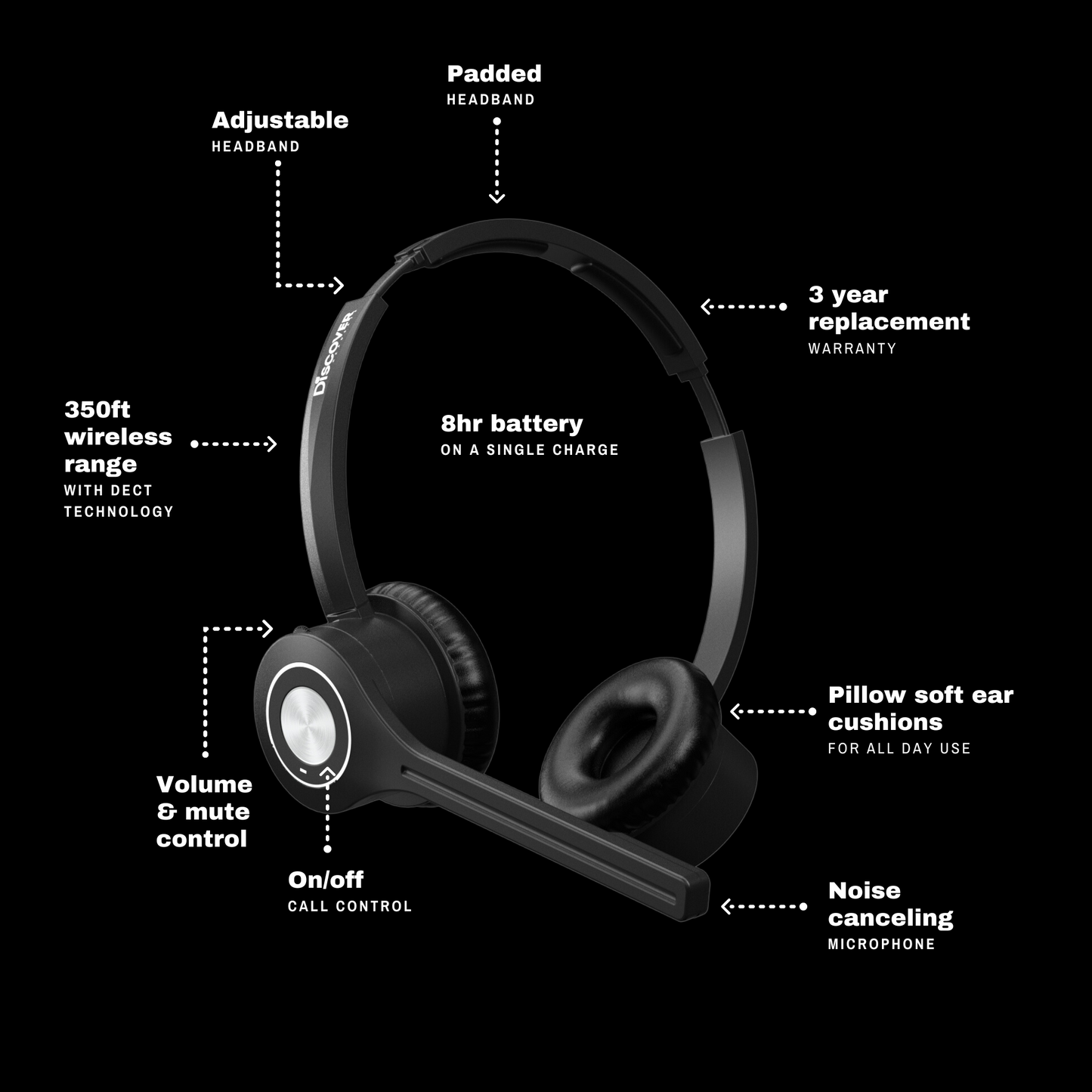 Collapsible content
Highlights

Modular headband design to switch from single to dual speakers (both included)
Bendable business grade noise canceling microphone that can be worn on the left or right side.
Easy to use call controls for volume, mute, on/off or answer/end.
DECT 6.0 technology for extended range (300ft), 5-10x more than Bluetooth headsets.
Seamless connectivity to corded desk phones and computer (Teams, Zoom, Google Meet etc..)
Rated up to 8 hours of battery talk time on a single charge.
3 year warranty
Details

You might be wondering what "modular" means, so we're going to break it down! Modular means that something is made up of separate parts that can be put together in different ways. And when it comes to the Discover Adapt 30 wireless headset we have here, it means that the headband can be converted from a single speaker to a dual speaker setup.

Think of it like building blocks, my fellow professionals. You get the option to choose the speaker configuration that best suits your needs. Need one ear free for a conference call? Single speaker has you covered. But if you want to reduce distractions around you and immerse yourself in a virtual world, dual speakers is the way to go.

It's like having two headsets in one, you can switch between them as needed. We call that versatility and flexibility.

Other wireless headsets out there, they might work with your desk phone, but what happens when desk phones go the way of the dodo? You end up with a fancy paperweight. But not with the Discover Adapt 30, no sir. It's got the flexibility to connect to your computer and desk phone, so if your phone system goes digital, you don't have to throw away your headset. And that's what we call smart thinkin.

Now let's talk about the elephant in the room, the background noise. You know, the chatter, the clatter, the din. Nobody wants to hear that when they're trying to have a conversation. But with the Discover Adapt 30, you get a business grade noise cancelling microphone that'll help reduce all that unwanted noise. So, the caller can focus on the call and not the racket going on around you.

Lastly, you need a headset that's gonna be comfortable for the long haul. And the Discover Adapt 30, it's got just the thing. 65mm leatherette ear cushions and adjustable padded headband cushion for maximum all day comfort. So, you don't have to worry about your ears and head aching after a long day.
Tech Specs

DECT 6.0 technology rated up to 300ft of wireless range
8hr battery talk time
5 headsets can be paired to one base
65mm leatherette ear cushions
Wideband enabled speakers with hearing protection
DC 9v 500mA power supply
Noise canceling microphone
Lithium Polymer 370mA battery
FAQ

Q: Which desk phones is the Adapt 30 compatible with?

A: Works with 98% of corded desk phones like Yealink, Poly, Cisco, Avaya, Mitel, Shoretel, AT&T and most others.

Q: What does modular mean?

A: You can detach the headband from the microphone and convert between a single or dual speaker wearing style. Also, if a headband were to break in the future, it's very affordable to replace vs having to buy a whole new headset.

Q: Does this headset work on my computer?

A: Yes, you connect the charging base to your computer with the included USB cable, and it works with all leading UC applications like Teams, RingCentral, GoTo, Google Meet and many others.

Q: Whats the difference between DECT and Bluetooth technology?

A: Both have their pros and cons but DECT technology is more secure and provides longer wireless range.

Q: Which type of phone cord connects the charging base to my desk phone?

A: RJ9 phone cord (same connection type is your handset)
Downloads
Modular headband
The only DECT headset with a modular headband that can convert from a single to dual speaker. This gives you two advantages:
If the headband breaks, no need to buy a costly replacement headset. Simply purchase an inexpensive replacement headband.
Two headsets in one gives you and your team more flexibility of wearing style choices.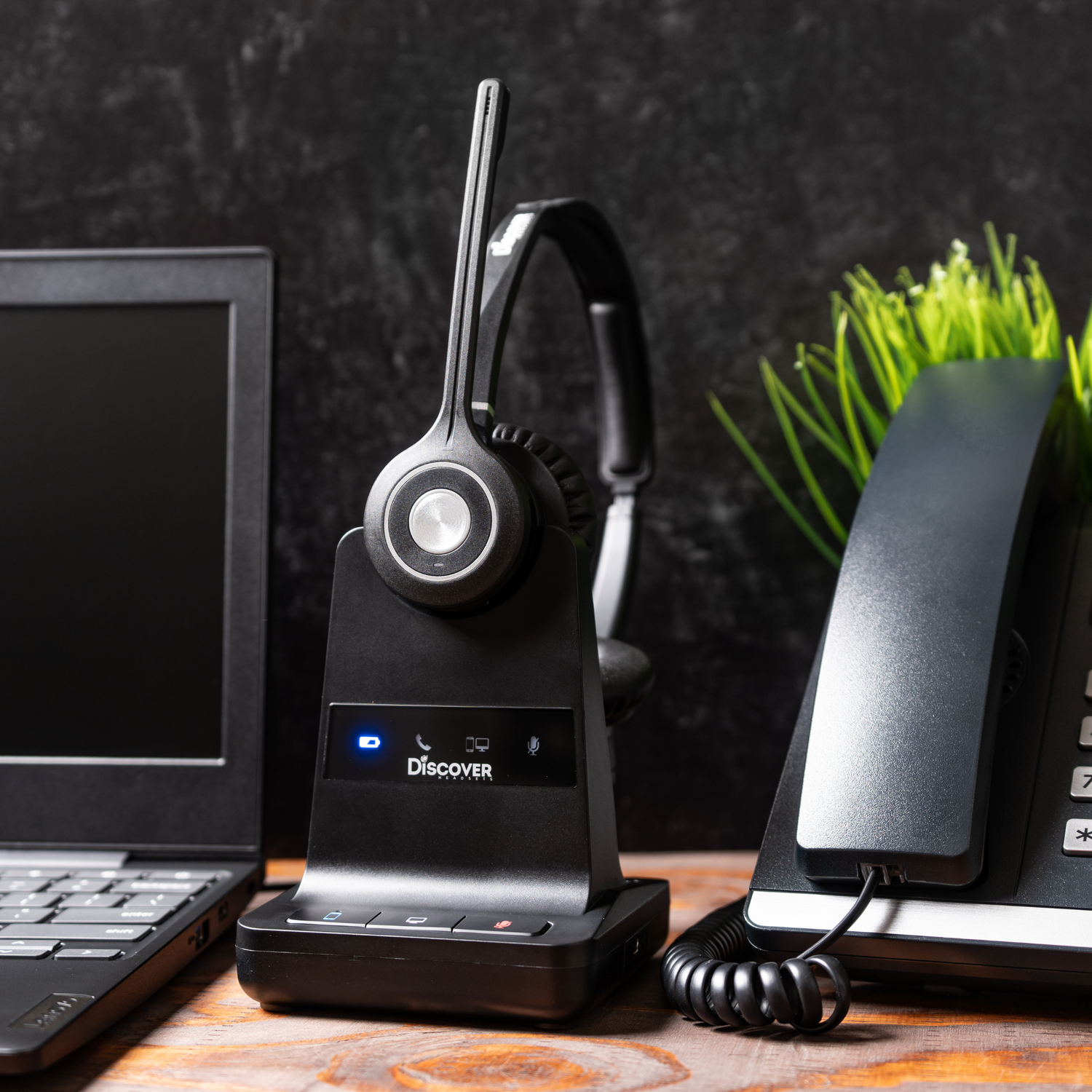 Flexible connectivity
Compatible with 99% of corded desk phones and easily works with your PC, Laptop or Mac for video meetings, softphone calls, webinars, voice dictation and much more.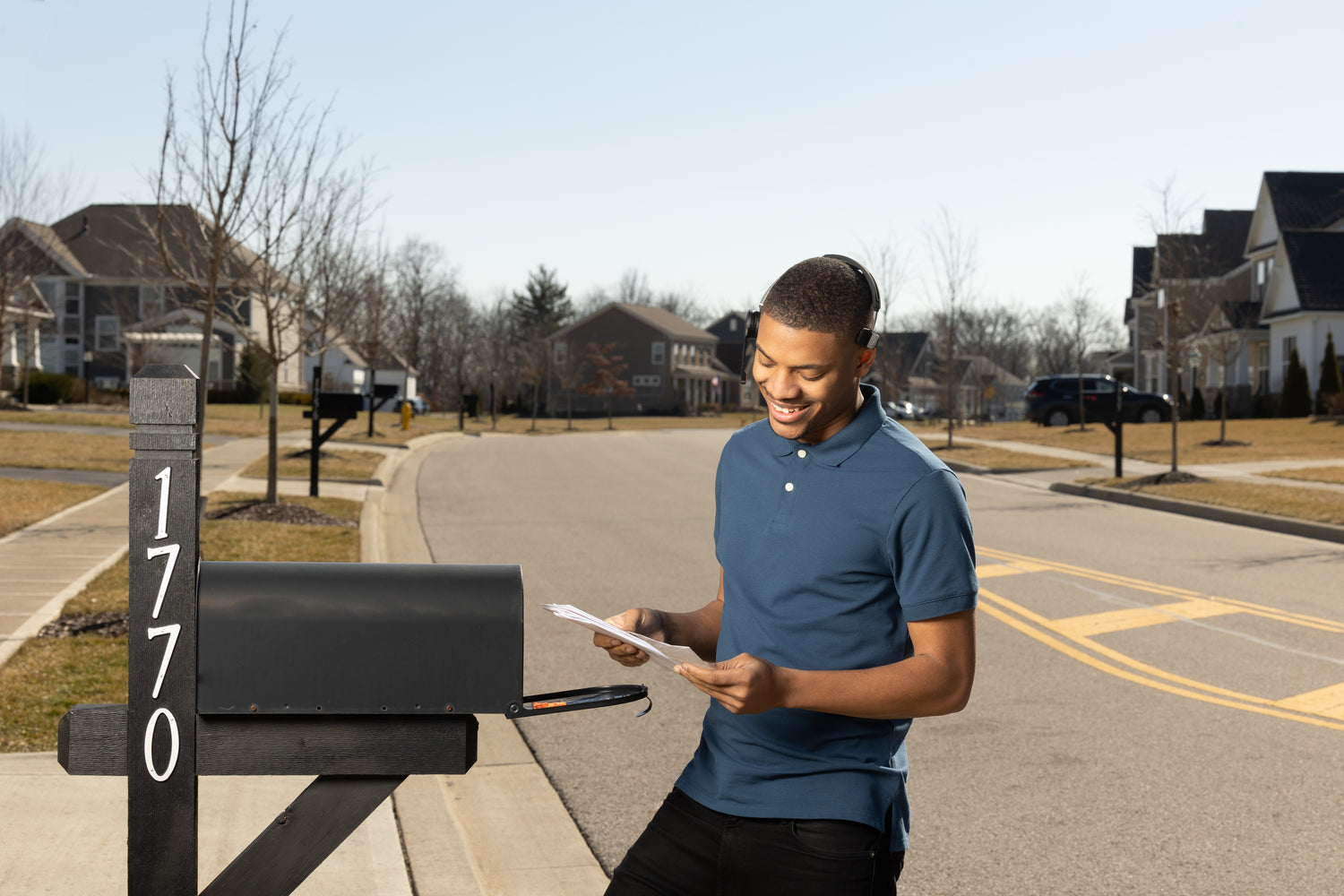 10x longer range
Whether you're on a call multi-tasking to grab the mail, roaming around the office, or getting your steps in throughout the day, DECT technology gives you extended range!
With up to 300 feet of wireless freedom, you'll be able to roam further without sacrificing crystal-clear communication. That's 10x the range of a Bluetooth headset.